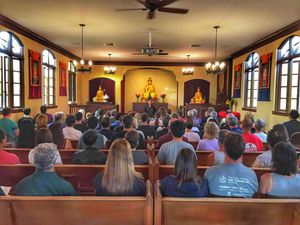 A sharing from DBT Co-Founder Jeffrey Zlotnik: 
There are moments at the Dharma Bum Temple where I completely stop and just be in tremendous gratitude. 95% of my time is spent building, creating, cleaning, funding, organizing, managing, putting shoes on rack, planning and holding the Dharma Bum Temple. Then people like Koshin Paley Ellison show up and immediately I am brought to the present moment of joy as I let it all go and just sit (or stand) and listen. 
Thank you Koshin for your heart driven wisdom and sharing the Dharma with pure intention. Your direct and humorous nature is part of what makes your teachings so special to me. Your ability to be completely present with anything and everything is so refreshing. Thank you for being you and reminding us all to be us, but to keep practicing. 
Your new book "Whole Hearted: Slow Down, Help Out, Wake up" is a brilliant insight into living with love and kindness. Love you brother and thank you! 
Book can be purchased at Buddha for You or via Amazon. 
The recording from Koshin's visit is on the Dharma Bum Temple YouTube:
"Koshin Paley Ellison's teachings share the way forward into a path of connection, compassion, and intimacy" – His Holiness The Dalai Lama 
NEW BOOKS - WHOLE HEARTED: SLOW DOWN, HELP OUT, WAKE UP 
Koshin's new book on sale now at Buddha for You (Inside Dharma Bum Temple) 
Sensei Koshin Paley Ellison, MFA, LMSW, DMIN, co-founded the New York Zen Center for Contemplative Care, the first Zen-based organization to offer fully accredited ACPE clinical chaplaincy training in America. NYZCCC delivers contemplative approaches to care through education, direct service, and meditation practice. Paley Ellison is the academic advisor for the Buddhist students in the Master in Pastoral Care and Counseling program at NYZCCC's education partner, New York Theological Seminary. He has served as the co-director of Contemplative Care Services for the Department of Integrative Medicine and as the chaplaincy supervisor for the Pain and Palliative Care Department at Mount Sinai Beth Israel Medical Center, where he also served on the Medical Ethics Committee. He is currently on the faculty of the University of Arizona Medical School's Center for Integrative Medicine's Integrative Medicine Fellowship, and he is a visiting professor at the McGovern Center for Humanities and Ethics, of the University of Texas Health Science Center of Houston Medical School. Paley Ellison is a dynamic, original, and visionary leader and teacher. 
Koshin is the author of Wholehearted: Slow Down, Help Out, Wake Up (Wisdom Publications, 2019). He is also the co-editor of Awake at the Bedside: Contemplative Teachings on Palliative and End of Life Care (Wisdom Publications, 2016). His work has been featured in the New York Times, PBS, Tricycle and others. Through his six years of training at the Jungian Psychoanalytic Association as well as clinical contemplative training at both Mount Sinai Beth Israel Medical Center and NewYork Presbyterian Medical Center which culminated in his role as an ACPE Certified Educator, chaplain, and Jungian psychotherapist. He began his formal Zen training in 1987, and he is a recognized Soto Zen Teacher by the American Zen Teachers Association, White Plum Asanga, and Soto Zen Buddhist Association. He serves on the Board of Directors at the New York Zen Center for Contemplative Care and Barre Center for Buddhist Studies.