Engaged Buddhist Service Opportunities
"Life's most persistent and urgent question is, 
'What are you doing for others?'"  - Dr. Martin Luther King Jr.
The community service opportunities we are regularly involved with and currently offering are: PATH (People Assisting the Homeless), Temple Food Redistributions, Homeless Hats: Knit & Sit, Temple Cleaning & Gardening, and the Prison Outreach Program.
We also recommend volunteering with the following organizations: Meals on Wheels, San Diego Pride, Amikas Foundation, Bridge Hospice, Voices for Children, and Trans Family Support Services. 
See additional details about all of these opportunities & organizations below!
PATH PROJECT
The Dharma Bum Temple volunteer group will help prepare and serve dinner at PATH ( People Assisting the Homeless) from 5pm - 7pm on the second and fourth Tuesday of each month.
PATH is located at 1250 6th Avenue, 92101 at the corner of Sixth and A street downtown, San Diego. You will enter the building at the A street entrance and check in with security. Let them know you are here to serve dinner and they will show you to the kitchen.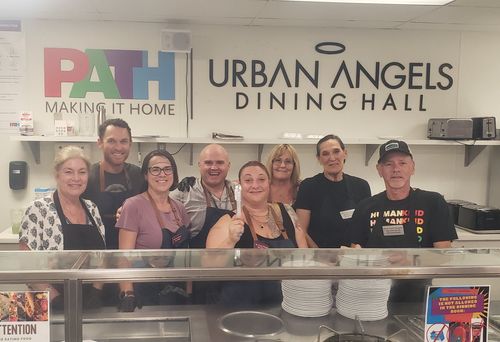 Keep in mind. Traffic into downtown can be quite congested at this time, so plan accordingly to park and arrive by 4:45PM to check in at the security desk. There is no designated PATH parking. There are many garages and meters located around the building. Carpooling is encouraged!
Please be sure to tell us which date(s) that work for you. You will receive an email after you sign up. Be sure to check your junk mail if it doesn't appear in your inbox.
Thank you for your willingness to volunteer at PATH!
To sign up and receive further information about this volunteer opportunity. Please click the link below:
FOOD REDISTRIBUTION
At the Dharma Bum Temple every Thursday at 5pm we gather to mindfully prepare food that would have been thrown away and carry it directly to those who are hungry. We pass out vegetarian food to the people living on the streets of downtown San Diego. This is a beautiful program and we need your help. We are building relationships with places that will let us take food that would typically go to waste. If you are interested in helping us collect food, please let us know. You can also just show up to offer a helping hand!
Weekly Schedule Every Thursday
5pm - 5:45pm: Arrive and Prepare Food
5:45pm - 6pm: Clean and Leave Temple
6pm - 6:45pm: Distribute Food
6:45pm: Closing Transfer of Merit Together Downtown
"I participated in the food redistribution tonight. I can not describe how much the entire evening touched my heart. Preparing the food was joyful and distributing it was humbling. Thank you." ~ T.O.
The U.S. Department of Agriculture estimates food waste in the United States to be about 30 to 40 percent of the food supply. An estimated 133 billion pounds of food from stores, restaurants and homes was wasted in 2010, according to the USDA. 150,000 tons of food is wasted every day. Yes, 150,000 tons of food gets thrown out every single day. We are working to do our small part to help this serious problem.

Taking care of others that are in need is the message - it's always the message. This is the practice of Dana (Generosity). The most important practice of all. For 13 years we have been fortunate to have so many kind, compassionate practitioners donate their time and care to feed the many who are in need. Thank you to all who support this practice and welcome to the new practitioners!

Please come and let's feed some people who are hungry!