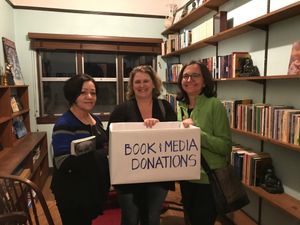 A message below from new our Library Team from Dharma Bum Life Program: 
Calling all book lovers!!! We have been graciously tasked with filling the empty shelves in the DBT library with more Buddhist goodness. We're starting with our Sangha (aka you!). 
In a collective effort to bring a variety of enlightenment to all who enter the temple, here's the ask in three easy steps (please): 
1. Take 5 minutes to check your bookshelves. 
2. If you borrowed a book and you're ready to return it OR if you see a Buddhist book collecting dust that you're ready to pass on... 
3. Place your book(s) in the donation box in the library next time you come to DBT. 
We're seeking sources for Buddhist books as well, so email us at thedharmabumtemple@gmail.com if you have questions, additional recommendations, or are interested in giving back as part of our library team. 
Many thanks!! 
DBT Library Team