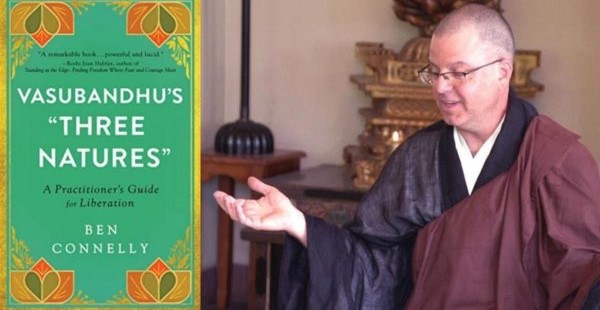 SPECIAL GUEST BEN CONNELLY: TUESDAY APRIL 25TH AT 7PM
The Dharma Bum Temple's Guest Dharma Teacher Program welcomes Soto Zen Teacher Ben Connelly on Tuesday April 25th at 7pm. All events are free and all are welcome. Please share this free and special event!
Imagination, Interdependence, and Liberation. Practicing Yogacara Buddhism with Vasubandhu's "Three Natures".
Dive into this empowering approach to freedom from suffering and from harmful personal and social patterns—and find peace and joyfulness in the present.
In his new book, Vasubandhu's "Three Natures," a plain-English commentary, Ben Connelly shows the power of integrating early Buddhist psychology with the Mahāyāna emphasis on collective liberation. You'll discover how wisdom from fourth-century India can be harnessed to heal and transform systems of harm within ourselves and our communities.
Bio
Ben Connelly is a Soto Zen teacher and Dharma heir in the Katagiri lineage. He also teaches mindfulness in a wide variety of secular contexts including police training and addiction recovery groups. He works with multifaith groups focused on intersectional liberation, racial justice, and climate justice. Ben serves the Minnesota Zen Meditation Center, travels to teach across the United States, has written for Tricycle and Lion's Roar magazines, and is author of Inside the Grass Hut, Inside Vasubandhu's Yogacara, Vasubandhu's "Three Natures", and Mindfulness and Intimacy.
Endorsements:
"A remarkable book . . . powerful and lucid." -Roshi Joan Halifax, founding abbot, Upaya Zen Center
"Inspiring…opens many doors to personal and social transformation, sorely needed." -Dr. Larry Ward, author of America's Racial Karma
"Connelly's insightful and often moving commentary displays the profound relevance of Vasubandhu's Yogācāra philosophy both to personal practice and to the wider social world." -Jonathan Gold, Professor of Religion, Princeton University
"...shows us how to understand and embody the mystery of Vasubandhu's teachings without getting lost in esoterica and spiritual bypassing." -Pamela Ayo Yetunde, Th.D. Co-editor, Black and Buddhist
"Beautifully written, it fuses lucid explanations of often difficult Yogacara ideas with attention to everyday concerns in a way that can help all of us apply Buddhist wisdom to the lives we live in the twenty-first century. " - Roger R. Jackson, author of Mind Seeing Mind and Rebirth
"...a rare and welcome combination of scholarship and insight born of deep study and practice. The goal of human flourishing and freedom from suffering is at the center of his exposition of every verse." -Anantanand Rambachan Author of A Hindu Theology of Liberation