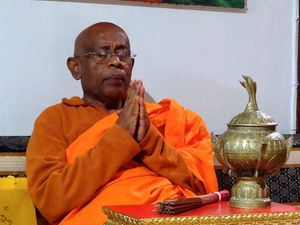 Join us on Saturday May 4th at 11am for a special ceremony blessing the new statues at the Dharma Bum Temple. Six weeks ago we welcomed our new Bodhisattva statues of Guan Yin, Manjusri and Samantabhadra. This is very auspicious occasion and we are honored to share it with you all! We are grateful for Venerable Bhante Piyananda for coming back to San Diego for this beautiful day. 
Bhante Walpola Piyananda, a Buddhist monk from Sri Lanka, arrived in the West Coast of America on July 4, 1976. He was 33 then. During his early days in the United States, people had never heard of a Buddhist monk. He was ridiculed, humiliated and ignored; at times, he was a victim of mistaken identity. However, all the nasty incidents did not deter Piyananda from settling down in the United States where he has been residing for 33 years. Ordained at the age of 12, he took the name of his village, Walpola, and the Buddhist name, Piyananda, which means "pleasant joy". 
Bhante is the author of two books, Saffron Days in LA and The Bodhi Tree Grows in LA which feature funny and poignant tales of his life as a Buddhist monk in the United States. His third book is in the works. He is the founder-president and abbot of Dharma Vijaya Buddhist Vihara in Los Angeles, California. It is one of the oldest Theravada Buddhist temples in North America. He is also president of the Sangha Council of Southern California, Chief High Priest in the United States, and advisor to the President of Sri Lanka on international religious affairs.