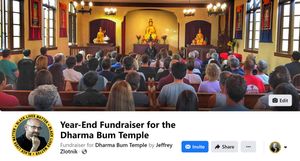 Dear Friends, 
This past year has been unlike anything we could have ever imagined! I first want to send love to all those who have been impacted by the pandemic. Lives have been lost and hearts have been broken. My thoughts and prayers are with you during such a difficult time. 
After being closed for sixteen months, tears were flowing when we reopened our doors July 10, 2021. During the time we were closed, we built a virtual Dharma Bum Temple which thrived thanks to so many amazing volunteers. This allowed us to reach people all over the world, many joining us for the first time. It also created an opportunity for people who attended the DBT in the past, but had moved away to join us once again. Of course our usual attendees continued to join virtually. A virtual Temple could not replace the beauty of gathering in-person, but it was the best we could offer the community considering the circumstances. 
Since reopening just three months ago, it has been heartwarming to welcome people in-person once again. The challenge now is holding space for two Dharma Bum Temples, one in-person and one virtually. Throughout 2021, we continued to offer our weekly meditation classes in-person and virtually including Intro to Buddhism, Loving-Kindness Meditation, Dharma Bum Basics, Tonglen Meditation and Zen Practice. We have been able to offer our daily morning meditation both in-person and virtually. Our Recovery Sangha has been a steady rock for those who battle addiction, meeting multiple times a week both virtually and in-person. Our college group Delta Beta Tau stayed strong virtually and now back in-person at SDSU meeting twice a week with 25 new members and about 75 students meeting weekly for meditation. Our Family Sangha continued virtually and now gathers once a month in-person to be a support system for the parents and kids. 
Community service has always been a huge part of the Dharma Bum Temple. The pandemic forced us to put a lot of this on hold. However we created a new program, the Homeless Hats Project which meets weekly making beanies (warm hats) to pass out to the people who live on the streets of downtown San Diego. This group led by an awesome volunteer team meets weekly online to "Knit and Sit" which includes a meditation followed by knitting the hats. We now meet once a month in-person as well. In just a few months, we have knitted more than 400 hats for the homeless. 
As we wrap up 2021 and look forward to 2022 I say thank you! None of this could have been done without the endless effort of volunteers that are the heartbeat of the Dharma Bum Temple. Every day people who enter this Temple touch the lives of so many others. You are the ones that make this place so incredible. You are the ones that make this place feel safe. You are the ones that make this place live and breathe. You are the Dharma Bum Temple. Thank you for making everything this past year possible, we are forever grateful! 
At the end of each year we look to you the community to make donations to help us sustain monthly expenses and help us pay down the debt of the building. It is our intention to raise $40,000 between now and the end of the year. Everything we do at the Dharma Bum Temple is free, however we have a lot of expenses and building debt, so I hope you will consider making a donation of any amount. The Dharma Bum Temple is a 501(c)(3) Non-Profit Organizations and all donations are 100% tax-deductible. 
Many of you are recurring monthly donors and we are endlessly grateful for your support! We hope you may consider a one time year-end donation as well to support our effort. 
WAYS TO DONATE: 
You may donate here via our Facebook Fundraising Campaign as there are no fees: https://www.facebook.com/donate/391212366055904/ 
You may donate via the DBT website here: https://www.thedharmabums.org/one-time-donation 
You may mail a check made out to Dharma Bum Temple to 4144 Campus Avenue San Diego, CA 92103 
You may drop a check in the donation box at the Dharma Bum Temple 
You may Venmo @dharmabumtemple 
It is my incredible honor to be of service to this community. Your continuous support is deeply appreciated and I thank you! Our intention has always been to build a safe place to study and practice Buddhism while coming together as a community. I am beyond proud of everyone who works so hard to make this little Dharma Bum Temple such a special place! 
Yours in the Dharma, 
Jeffrey Zlotnik 
Co-Founder & CEO