The Dharma Bum Temple offers many groups that come together for various purposes. Currently we have our Social Sangha, Family Sangha, Engaged Buddhist Training Program, and Delta Beta Tau at SDSU.
See below for additional details about each group!
The DBT Social Sangha will be hosting monthly events to get to know your DBT friends. Activities will range from interactions with nature, Temple visits, museums, picnics and much more! It's an exciting time to be alive so let's share it with our beautiful community!
November 26th at 9:45AM-12PM: Visit to the San Diego Buddhist Temple, Taiko, & Lunch at Pokez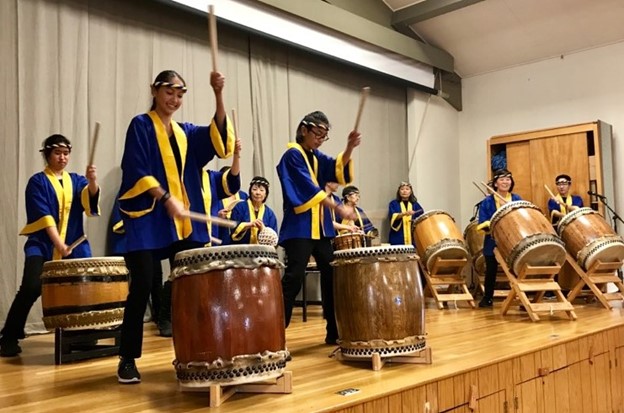 Facebook event page: Click Here
The DBT Social Sangha invites you to join us for a visit to the San Diego Buddhist Temple on Sunday, November 26th, 2023 from 9:30 am to 12 pm. The San Diego Buddhist Temple is a U.S. iteration of a Japanese Buddhist tradition that can be described as Mahayana Pure Land School reformed nonmonastic Buddhism. We are excited to visit this temple as it is one of the oldest in San Diego, it opened in 1926.
The Plan: We will be joining their traditional family service from 10 a.m. to 11:15 a.m. The Service will be conducted in English with ritual chants in Pali, Sanskrit, or Sino-Japanese. After the service, there will be a 15-minute break with light refreshments. At 11:30 a.m. we will visit the Taiko Drum practice for about 15 minutes. We will be done with our visit around 11:45. After our visit, we plan to grab lunch at Pokez Mexican Restaurant, 947 E St, San Diego, CA 92101.
Meeting/Carpool: Please meet us outside of the Temple at 9:45 am OR at the Dharma Bum Temple at 9:30 am sharp to carpool.
We look forward to seeing you!
call/text: Eric @ 619-820-2490, Leita @ 619-654-3724 or Chaz @ 619-322-6009 for more info.
May we all benefit from Dharma Friendship!
FAMILY SANGHA: PARENTS, KIDS, TODDLERS & TEENS