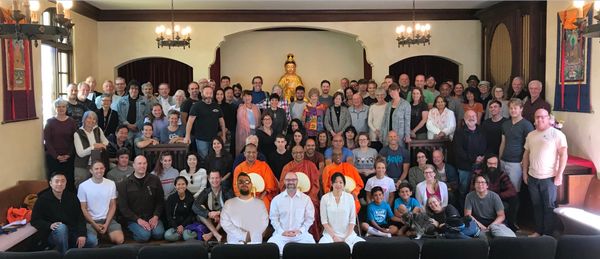 In the beginning… 
A Buddhist Shrine is built to foster a peaceful environment allowing one to abide in presence, while cultivating compassion and wisdom. Shrines are created to evoke calm and clear states of mind brought on by the beauty of the statues and their symbolism. A shrine is most often evolving uniquely to the place and purpose they serve. They tend to change and be added to over time as needed while also possessing some standard characteristics such as being centered by a Buddha statue. From day one, in 2006, Dharma Bum Temple's central statue has been the Emaciated Buddha. This was and still is fitting for us Dharma Bums. 
Before discovering "the middle way" and becoming the Buddha, which translates to "the awakened one," Siddhartha Gautama spent years living as an ascetic in his quest to find and attain enlightenment. The Emaciated Buddha depicts the Buddha at this stage of his life when he was struggling and near death. 
It felt right for us to sit with the Emaciated Buddha statue, because it represents where we Dharma Bums are as unenlightened practitioners. It was more relatable to us than the traditional Buddha found at most temple shrines. The Emaciated Buddha helps remind us that we too can be struggling physically, spiritually, mentally, emotionally and near death – and that we too can figure out how to end our suffering, find balance, and awaken just as Siddhartha did over 2,500 years ago. We found comfort in remembering he was also just a human who trudged a very arduous path as he found his way. So, the Emaciated Buddha helps serve to encourage, inspire and motivate us in our practice. 
In September of 2008, we added three small Ganesha statues. Ganesha, a Hindu God, is the Lord of success, education, knowledge, wisdom, wealth and the destroyer of obstacles. At the time, we were transitioning as an organization and experiencing some early growing pains. So, the three Dharma Bum Temple co-founders each picked a little Ganesha statue as we continued to push through obstacles creating a path for a successful Temple. 
On our shrine we also have a small Ksitigarbha statue. He is the embodiment of the Bodhisattva Vow, the aspiration to liberate all beings from suffering. A Phra Sivali statue from Thailand was also added. He was a wealthy monk believed to be the greatest patron to the Buddha and the Sangha and known for his love of giving to those in need. We added him to the shrine in 2016 when we started the journey to purchase our new Temple building. Other traditional objects such as our singing bowl and incense are there along with passing offerings of flowers, rice, and water. We also have a few simple but very precious gifts that we keep on the shrine. 
Our New Temple Shrine 
In 2018, leading up to our one-year anniversary in the new Temple building, a lovely couple, long-time community members who spend a lot of time in the main hall, approached us. They said they wanted to help complete and create a really special place at the front of main meditation hall. They especially wanted to provide for our Temple's one-year anniversary ceremony. So, we collaborated with them on how we could fulfill their vision while supporting and maintaining the appropriate tone of the space. What resulted was the commission of the four Thangkas in the front of the hall. These commissions were hand painted by Lamas in Nepal. Represented are the two wings of Buddhism: 1. Manjusri for wisdom and 2. Four-Armed Guan Yin for compassion. Also represented are: 3. Amitabha Buddha known in Pure Land Buddhism as "The Buddha of Immeasurable Light and Life;" and 4. The Medicine Buddha for overall health and healing. [NOTE: If you want to learn more about these Thangkas, each has (will soon have) a description placard hanging adjacent to it in the main meditation hall] 
A few months later this same lovely couple came back to us with another request. They asked if they could provide for more proper statuary on the main shrine – again with the idea of "completing the space." This proposition posed massive change for us and seemed to intimidate our humble roots and modest shrine. But, as it turns out with so many things, their beautiful intention and expression was perfect. The reality was we had a much larger space now and a growing community. Everything changes. Most importantly, the couple's intention was to make sure the space always had a powerful presence when people walked in – and when people sat in the hall as this couple so often did. It was important for them to leave Dharma Bum Temple with a gift that really blessed the space, so when people visited the hall for the next 100 +years they could be touched by the statues. They were not interested in gifting the temple as much as gifting the people who visited it. The gift was about the people who would benefit from the statues' presence. 
A Plan is Born 
And so, with the decision made, we began this next adventurous phase of our shrine's evolution. Through one our co-founders we knew an artist in Taiwan, Ms. Cho, who worked at a multigenerational statue fabrication company renowned for making temple-grade statuary. They have been making fine traditional Buddha's for temples in Taiwan for many years. Ms. Cho had been following Dharma Bum Temple for about ten years and was excited for us when we successfully acquired our new Temple. When we asked her to help us with these new statues she enthusiastically accepted and insisted it was to be done at a family pricing rate. She was a blessing and invaluable resource over the almost twelve-month process. With the help of Ms. Cho, we decided to follow a traditional Buddhist temple shrine layout. The statues would be designed to be roughly life-sized. Ms. Cho educated us on the proper dimensions and proportions of the statues and tables on which they would sit. 
As the plan was always to keep our Emaciated Buddha in the center we needed another statue to serve as the new central statue, to sit behind our Emaciated Buddha. So, we said to ourselves, "What does the world need more than anything? What does our country need more than anything? What do each and every one of us need?" The answer was clear: Compassion. So, we thought there was nothing better to have as the center of our Temple than a great big Guan Yin, the "Bodhisattva of Compassion" a most beloved figure throughout Buddhism. Tibetan Buddhists believe that the Dalai Lama is the modern-day reincarnation of Guan Yin. The words "guan yin" translate to "hearer of the world's cries." So, the idea in Buddhist iconography is that Guan Yin hears all the suffering in the world and pours out compassion to heal it. The new Guan Yin is seated atop a lotus flower representing the beautiful mind blossoming out of the mud of anger, greed and ignorance. Similarly, her right hand is posed in what's called the lotus mudra. Her left hand holds a vase from which she is pouring out compassion to heal all beings. In our shrine arrangement, Guan Yin is gazing down at our Emaciated Buddha while simultaneously her vase is pouring compassion onto him and flowing out onto all of us who enter. 
In addition to the Guan Yin, we decided to have Manjusri, the Bodhisattva of wisdom, to the left and a Samantabhadra, the Bodhisattva of great practice and diligence, to the right. [NOTE: to learn more about these two statues, visit the descriptive placards (coming soon) just inside the main hall of the temple to the left] 
The design phase with Ms. Cho took about 4-5 months. Since she was in Taiwan, design calls were held in the 1am-3am PST window. The process of creating custom statues is painstaking. You must decide on facial expressions, clothing, the wide variety of symbology that will adorn each statue, the multitude of color and color combinations, etc. Multiple iterations of small handmade statue models were regularly shipped from Taiwan to the Dharma Bum Temple as visual aids to help facilitate the design phone calls and collaboration. Ultimately, final designs and dimensions were locked in and Ms. Cho and her team went into production. And for us, the waiting game began. 
Around this same time, and completely separate from this project, another anonymous donor approached Dharma Bum Temple seeking to provide funding towards completing the temple building rehabilitation. That project allowed us to reshape the shrine stage area, to remove the pulpit and excess railing creating more space. We had the shrine floors restored to their original 1927 nature. We had the walls repainted and drapery replaced leaving a clean, beautiful and fresh canvas on which to add the new statue set-up. 
Meanwhile, our initial statue donors had also provided funding for the shrine tables. Again, with the help of Ms. Cho we had the necessary table dimensions and worked with a local designer to help us finalize the table designs. Through one of the many workers who helped on the rehabilitation of the temple, we found a phenomenal woodworker and craftsman in San Marcos named Ismael. He and his team took about 2-3 months creating our beautiful shrine tables, taking great care to perfectly match the wood color and finish to all the existing 90+ year-old woodwork. Through this interactive process we enjoyed seeing Ismael pouring his love and care into his work and seeing his satisfaction in working with a Dharma Bum Temple volunteer team who helped carry the giant statue tables into place in the main hall. 
Like Ismael and his crew, so many people involved in this new building seemed to fall in love it and what it stood for. Ms. Cho felt the same way before we even engaged her and insisted on covering all shipping expenses from Taiwan to Los Angeles which included insurance and customs fees. And then she stunned us with this: as a gift to the Temple, she had made 100 sets of mini-replicas to scale of the three new shrine statues – the Manjusri, Guan Yin and Samantabhadra, so they could be sold in the gift store in support of Dharma Bum Temple. Needless to say, we are beyond grateful to Ms. Cho and have sent her a thank you gift including a photo of our community gathered in front of the beautiful statues – statues that will grace our Temple and its visitors for centuries to come.  
The Waiting Game is Over 
It was the morning the statues were set to arrive. Ms. Cho had been checking the weather report and saw that San Diego called for rain that morning. She began to chant from 11pm-3am Taiwan time, which was the scheduled time for arrival of the new statues. Her prayer was for the statues to arrive safely and that there was no rain. 
At 7:45am on the misty Monday morning of March 11, 2019, a small crew congregated in Dharma Bum Temple's main hall. A notice had gone out on the DBT Facebook page the night before: "We're looking for six relatively strong people who are available 8am-12pm this Monday to help Dharma Bum Temple. If you are interested please send us a message. Thank you!" Most were not aware of the nature of the project. All were pleasantly excited once they learned. They were oriented to the day's plan as attendees of the morning meditation service were diverted to the downstairs meditation hall. In the main hall, an incense offering and morning ritual was performed with this volunteer crew and Dharma Bum Temple co-founders Jeff and Maggie to prepare the hall and its shrine area for the arriving statues. They were expected to arrive within an 8am to 12pm window. 
One of the volunteers had brought all sorts of amazing stuff to form what was an absolute A-grade breakfast buffet. Everyone sat together in the library waiting and eating breakfast. It was cold that morning. Someone else had brought one of those big boxes of Starbucks coffee. A fun contest emerged: guess what time the truck will arrive. Each person picked a time. This game had several chapters as time passed with no truck. Conversations were had as folks got to know each other. The cold, grey and misty day made it particularly cozy inside. Finally, at around 11am a call from the driver came in. He was about 20 minutes away. The volunteer cadre made its way to the street and eagerly awaited. None had won the time contest, although the contest had provided some fun banter along the way. And then finally…"Is that the truck?! Yep, I think that's it!" And the crowd started waving him in…"Here! Here! Over here!" As he pulled up, they were alarmed as two dogs started barking loudly and incessantly from the truck's passenger window, and the driver hopped out looking not very pleased. Jeff, greeted him with a cheery "Hey! How ya doing?" to which the driver replied "If I told you good I'd be lying." The driver seemed confused as we eagerly sought for him to open the door. The scene was confused. As he opened the door the driver said "How are you going to load 9,800 pounds?" This further confused the situation – the statue shipment supposedly had a total weight much less. As the door opened to an empty truck there was a confusion climax quickly followed by a realization. This driver, this truck had arrived to pick up a 9,800 pound load from across the street! It was the wrong truck! Just then the correct truck pulled up and the grumpy fellow with the noisy barking dogs was politely asked to make way. 
The new, correct, and perfectly friendly driver pulled up, popped the door and revealed our giant crates. Big wood crate boxes with bubble-wrapped statues inside. The excitement was palpable, and the team anxious to get to work! The crates with the boxes of the mini-statue duplicates were small enough to be rolled into the temple building, the bigger statues would needed to lifted in by hand. And the Guan Yin crate needed to be dismantled outside it was so large. About 60-minutes later of sawing, crowbarring and hammering the Guan Yin crate was dismantle enough to pull its precious cargo out to carry inside. From there, it seemed another 30-minutes to very carefully remove the bubble-wrap. That first unveiling when her golden head was revealed was a sweet moment. The worker-bees in the room tapped each other on the shoulders and pointed, and the room got quiet…the statues had finally arrived. 
Thankfully, the collective experience of unpackaging Guan Yin made the Manjusri and Samantabhadra a far more efficient process. By two o'clock the new shrine was in position, the meditation hall was clean and the job was done. It looked like the shrine been there forever and like it was meant to be there. Pride and joy were in the air and a special day was officially capped off. We completed the welcoming of the new statues with another incense offering and ritual blessing. The happy and satisfied crew made their way downstairs for a nice casual lunch together, raised our cups of fresh squeezed orange juice and said "to Sangha" and then parted ways, most as new friends. 
The donors of these beautiful statues, the fine statue tables and our new Thangkas, this beautiful couple, has chosen to remain anonymous. But rest assured, we have and will continue to extend our endless gratitude to them for their thoughtfulness and generosity to all of us and all of those who will enter this temple. We are all forever grateful. On behalf of all Dharma Bums and visitors to the Dharma Bum Temple we send you love, and we thank you, thank you, thank you! Your gift will be cherished for centuries to come. 
Blessing of the New Statues 
A blessing of our new statues was set for Saturday May 4th at 11am. We invited Venerable Master Bhante Piyananda to lead a traditional "Open Eye" ceremony to formally welcome the statues into the Dharma Bum Temple. The ceremony itself was to "bring to life" the power and beauty of the statues. Bhante Piyananda was joined by two other Buddhist Monks from Sri Lanka, Venerable Bhante Seelawimala and Venerable Bhante Seelaratana. One of them lives in Sacramento and when he found out the day prior about our ceremony he said he wanted to join us. So that evening he caught a flight to Los Angeles and drove with the other two to San Diego on Saturday morning. We were honored to host the three Monks who shared thoughts on the meaning of the statues, gave a talk on compassion and led us in a Loving-Kindness meditation. At the end of the ceremony, we all gathered for a beautiful group photo followed by smiles, hugs and endless joy…
Click here to watch the Blessing of Statues performed Saturday May 4th, 2019
Click here to watch a slideshow illustrating the entire journey of the statues