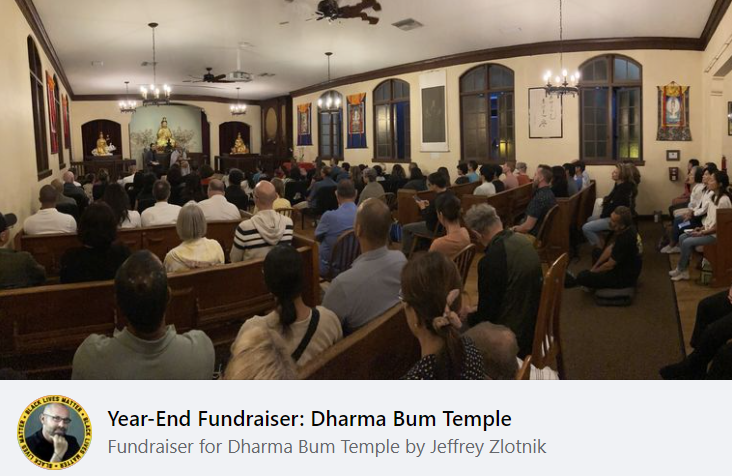 Dear Friends,
As we come to the end of 2023, I look back on what has been an amazing and beautiful year at the Dharma Bum Temple. I have seen this little Temple grow at a rate faster than ever before. At a time where communities seem to be struggling to bring people together, we are flourishing. As we finish the year, I am incredibly pleased with the success of this past year and excited for the new year ahead!
When we began the Dharma Bum Temple at the end of 2006, we had a simple mission and vision of sharing the practice of Buddhism and meditation with everyone who shows up. Seventeen years later this has not changed and I am proud of everyone who has made this possible. I have been in this Temple every day for the past seventeen years and have never seen or felt the pain people carry with them as they do now. It has been a very difficult few years and I am incredibly grateful for the love and strength of this Sangha that has helped us all get thru each day.
Throughout 2023, we continued to offer our weekly meditation classes in-person and virtually including Intro to Buddhism, Loving-Kindness Meditation, Dharma Bum Basics, Tonglen Meditation, Day of Silence Retreats, Zen Practice and daily morning meditation. We added new programs such as the Engaged Buddhist Training Program, Buddhist Mindfulness Meditation, Residential Retreats, afternoon meditation Monday thru Friday, two new Recovery Dharma groups Monday and Friday evening, longer Zen practice on Sunday afternoons and our new Social Sangha has ventured around San Diego County with some amazing experiences while cultivating deeper spiritual friendships.
Our Outreach Programs continued to expand with our weekly Food Redistribution Program, weekly Prison Outreach at adult and juvenile facilities as well as a weekly Recovery Dharma Program at a mental health facility. The Homeless Hats Project met weekly all year making beanies (warm hats) to pass out to the people who live on the streets of downtown San Diego. This group led by an awesome volunteer team knitted nearly 1,500 hats for the people who sleep outside every night.
Our Recovery Sangha has been a steady home for those with addiction, meeting every day both virtually and in-person. Our Dharma Bum Volunteer Hosts continued to be a very welcome addition to the Temple. Our college group Delta Beta Tau stayed strong meeting twice a week with 23 new members and about 55 students meeting weekly for meditation. Our Family Sangha gathers once a month to be a support system for the parents and kids, while also holding social gatherings outside the Temple.
It has been an incredible honor to once again host some of the best Buddhist teachers from around the globe as part of our Guest Dharma Teacher Program. We had an opportunity to host Korean Zen Master Pomnyun Sunim, the Abbot of Tashi Lhunpo Monastery Zeekgyab Tulku, Zen Teacher Ben Connelly, Tibetan Master Geshe Lobsang Tseten, Brother Michael from Deer Park Monastery, Sensei Sozui from Hidden Valley Zen Center, Theravada teacher Bob Isaacson, and Venerable Miao Zang from Hsi-Fang Temple.
Heading into 2024, we will have some new programs including a Women's Buddhist Leadership Training Program and additional Engaged Buddhist Training Programs. We are already scheduling visiting guest Dharma Teachers and will be planning more social events for the community. This Thanksgiving we will have our annual Food Redistribution Event and feeding the people who sleep on the streets of downtown San Diego.
As we wrap up 2023 and look forward to 2024, I say thank you! None of this could have been done without the endless effort of the volunteers that are the heartbeat of the Dharma Bum Temple. Every day people who enter this Temple touch the lives of so many others. You are the ones that make this place so incredible. You are the ones that make this place feel safe. You are the ones that make this place live and breathe. You are the Dharma Bum Temple. Thank you for making everything this past year possible, we are forever grateful!
At the end of each year, we look to you the community to make donations to help us sustain monthly expenses and pay down the debt of the building. This year however we have some major expenses upcoming and really need your help! We will be replacing 11 more windows that leak and need to be fixed to protect the building. We will be trenching the perimeter of the Temple and water proofing the building, to protect it from leaks for the next 50 years. Our fun project we hope to bring to life by the Spring time is a complete renovation of the Temple Garden, including an outdoor meditation garden for classes in the front of Temple, modeled after Ryoanji, the famous meditation rock garden in Japan (renderings to be shared soon!)
Everything we do at the Dharma Bum Temple is free, however we have a lot of expenses and building debt, so I hope you will consider making a donation of any amount. The Dharma Bum Temple is a 501(c)(3) Non-Profit Organizations and all donations are 100% tax-deductible.
I know so many of you are recurring monthly donors and we are endlessly grateful for your ongoing support! I hope you may consider a one-time year-end donation as well to support our effort and help us cover these expenses.
WAYS TO DONATE:
***You may
Venmo @DBT2023
***You may mail a check made out to Dharma Bum Temple to 4144 Campus Avenue San Diego, CA 92103
***You may drop a check in the donation box at the Dharma Bum Temple
It is my incredible honor to be of service to this community. Your continuous support is deeply appreciated and I thank you! Our intention has always been to build a safe place to study and practice Buddhism while coming together as a community. I am beyond proud of everyone who works so hard to make this little Dharma Bum Temple such a special place!
Yours in the Dharma, 
Jeffrey Zlotnik 
Co-Founder & CEO
Donate via Facebook / Donate via website / Venmo @dbt2023 / paypal.me/DharmaBumTemple